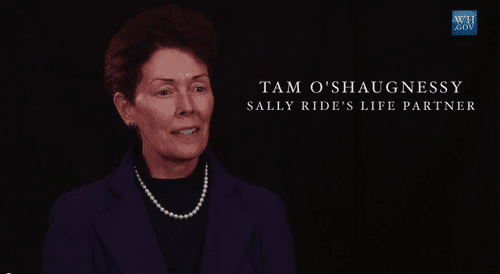 Last week, we reported that Sally Ride, the first female American astronaut in space who came out in her July 2012 obituary, was awarded a posthumous Presidential Medal of Freedom. Sally's life partner, Tam O'Shaugnessy, accepted the award on her behalf and gave a brief interview afterwards about Sally's life and her impact on the world.
On accepting Sally's award:
"…to represent her in such an important forum as a gay woman was really quite an honor. And I also think it sends a huge, wonderful message to the world about our country and equality and kind of the way things should be."
On Sally:
"She was very bright. She did great things. But by and large the way she lived her life was quietly, privately, and just working. She was much more interested in doing than in receiving awards and so on."
Check out the video interview, AFTER THE JUMP…