A controversy has emerged out of La Feria, Texas after the town's high school refused to allow transgender senior Jeydon Loredo to wear a tuxedo in his senior portrait for the school's yearbook as it allegedly violates "community standards," according to District Superintendent Rey Villarreal. Villareal apparently told Jeydon's parents that his picture would only be included if he wore "stereotypically feminine attire, such as a drape or blouse."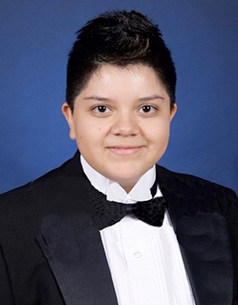 Jeydon, who was born biologically female but identifies as male, has enlisted the help of the Human Rights Campaign (HRC) who in turn brought in the Southern Poverty Law Center (SPLC) to petition the school board to allow him to appear in his yearbook in a tuxedo, an act that would respect and recognize his gender identity. However, after a meeting on Monday night in front of the La Feria School Board, where representatives from both SPLC and HRC were present to argue on Jeydon's behalf, the school board took no immediate action and is evidently not required to render a decision within any ascertainable time-frame. Moreover, Jeydon and his supporters now find themselves in something of a catch-22 as to how to proceed with their case:
"The superintendent…told representatives from the HRC that the "only formal way to address it" was through filing a disciplinary grievance form, though the district's own policies state that a gender discrimination complaint against the superintendent is made directly to the school board. Complaints made through a disciplinary grievance form, as the superintendent requested, would put the superintendent – the target of the complaint – in charge of the investigation's early stages."
You can read the letter sent earlier this week by SPLC to the La Feria School Board, outlining how they are discriminating against Jeydon and why they must move towards inclusivity, HERE.
UPDATE: Jeydon has won.
Today the La Feria School Board decided to allow the formal tuxedo senior portrait of Jeydon Loredo to appear in the yearbook, after previously forbidding it because Jeydon is transgender.  The Human Rights Campaign (HRC), the nation's largest lesbian, gay, bisexual and transgender (LGBT) civil rights organization, has been working with Jeydon's family to resolve the issue in partnership with the Southern Poverty Law Center (SPLC)…
…In an agreement reached during the meeting, attorneys for the La Feria Independent School District agreed to provide written confirmation that Jeydon's tuxedo photo will appear in the yearbook along with the other students in his class. In addition, the district agreed to follow its own corrective policies for cases of gender discrimination and provide training for those involved, along with a comprehensive education program for the school community. The district will also expressly include gender expression in its antidiscrimination policies.