Vietnam made important strides toward same-sex marriage equality this week when it legalized same-sex wedding ceremonies. Although the unions formed out of these ceremonies will not be recognized by the country as marriages, the news is welcome and exciting for the southeast Asian country.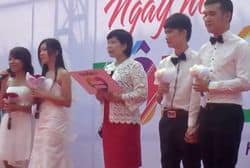 Free District reports:
The decision comes after two fines were imposed last year to two same-sex couples who held weddings ceremonies in Vietnam.
The couples were charged with holding a ceremony "contrary to the habits and customs of Vietnam" and violating the Law on Marriage & Family of Vietnam, which outlaws same-sex marriage, said reports.
After the law was challenged, however, the government backed down, and has decided to allow same-sex weddings.
As Towleroad previously reported, the Vietnamese government has been scheduled to look at a bill which would legalize same-sex marriages as well, but the vote, which would likely have its supporters, has been delayed. 
For now, congratulations to Vietnam and the same-sex couples who are able to have the ceremony of their dreams!