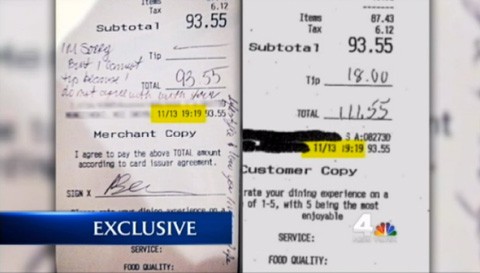 Last week we reported that Dayna Morales (pictured below), a waitress at Gallop Asian Bistro in Bridgewater, New Jersey, received a receipt without a tip back from a customer with a note reading:
"I'm sorry but I cannot tip because I don't agree with your lifestyle & how you live your life."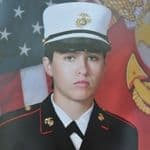 Morales's story made national headlines and support, both moral and financial, poured in.
Now a family has come forward claiming that Morales doctored the receipt and that they have the real copy, with an $18 tip that they gave to her, NBC 4 reports:
They also provided a document they said was a Visa bill, which appears to indicate their card was charged for the meal plus the tip, for a total of $111.55.
The couple told NBC 4 New York that they believed their receipt was used for a hoax. The wife says she is left-handed and could not have made the slash in the tip line, which she said looks to be drawn from the right.
"We've never not left a tip when someone gave good service, and we would never leave a note like that," the wife said.
The husband said he and his wife have both worked in restaurants and believe in the value of tipping, and noted that he didn't vote for Gov. Chris Christie because the governor doesn't support gay marriage.
"Never would a message like that come from us," he said.
Morales continues to stand by her story.
Watch the NBC4 report, AFTER THE JUMP…