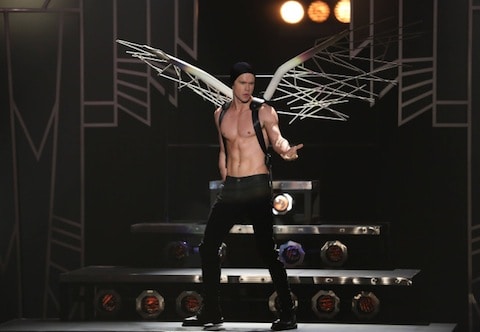 As the TV season gets into full swing, check out our new weekly guide to make sure you're catching the big premieres, crucial episodes and the stuff you won't admit you watch when no one's looking.
— Coming off the tragic death of Cory Monteith, Glee returns from hiatus with a new episode Thursday at 9 p.m. Eastern on Fox. American Idol runner-up Adam Lambert joins the cast as Glee ponders this generation's Jackie or Marilyn conundrum: Are you a Katy or a Gaga?
More picks and clips, including Food Network's 20th birthday bash, a familiar face on New Girl and Rob Lowe as JFK, AFTER THE JUMP…
— Old-school fans of Zooey Deschanel's sitcom New Girl may remember original roommate Coach (played by Damon Wayans Jr., who left the series after the pilot for the brilliant, but canceled Happy Endings). He's back on Tuesday's episode, 9 p.m. Eastern on Fox.
— The undead army of Marie Laveau (Angela Bassett) continues to descend on Miss Robichaux's Academy For Exceptional Young Ladies in part two of this year's American Horror Story Halloween episode. Will it come down to Zoe to stop her? Find out Wednesday at 10 p.m. Eastern FX. (Catch up with our recap!)
— It's hard to imagine what life was like before the advent of the 24-hour cooking channel — before we Bam!'d, before we Yum-O'd and before we ever saw Guy Fieri wipe chili off his face. Take a look back at Food Network's history with host Mo Rocca on Food Network's 20th Birthday Party, Saturday at 9 p.m. Eastern.
— This year marks the 50th anniversary of President Kennedy's assassination, so NatGeo's Killing Kennedy (premiering Sunday at 8 p.m.) is sure to be just one of many televised remembrances. Rob Lowe stars as JFK, while Ginnifer Goodwin plays Jackie, Will Rothhaar is Lee Harvey Oswald and Gossip Girl's Michelle Trachtenberg plays Oswald's wife.