Peter LaBarbera, a perennial unfavorite here at Towleroad and the head of Americans for Truth About Homosexuality has issued another deplorable statement of homophobia and intolerance. This time his rage is holiday-specific, taking aim at the shameful "thanks" that "homosexuality advocates" give for the progress of LGBT rights during, well, Thanksgiving. LaBarbera sees this appropriation of a decidedly American holiday as an affront to God, who should be receiving more credit from the general public on this most celebratory of days.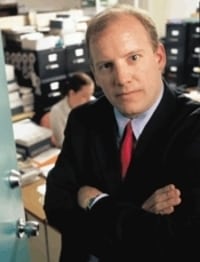 Right Wing Watch reports content from LaBarbera's website:
As secularism and – dare I say – godlessness deepen in these United States, many are leaving God out of Thanksgiving Day. Language always follows the heart: have you noticed the habit that has crept in of being thankful for this and that – without being thankful to God?
Now homosexuality advocates (and others) have taken this regrettable phenomenon a step further: using Thanksgiving as an opportunity to be "thankful for" developments that are decidedly ungodly – e.g., the advance of out-and-proud homosexualism, including "same-sex marriage," in the United States.
I came upon this homosexual website article timed for Thanksgiving about homosexuals being thankful for various "gay rights" achievements, including more lesbians on TV. We know as Christians and Bible-respecting Jews that Our Heavenly Father is not smiling on that.
Though the first Thanksgiving celebrations in America may have occurred amongst Puritans and Pilgrims "thankful" for their new-found religious liberty (and soon to impose harsh theological restrictions on other groups), one would be hard-pressed to constitute the annual holiday as a purely religious one. LaBarbera, of course, disagrees.
And so, we have come full circle: citizens of a nation founded "under God" use our annual day of gratitude — conceived to humbly give thanks to God — to celebrate sin. How insidious is the "Progressive" Left's radical redefinition of everything noble – patriotism, liberty, equality, and now even God Himself – to advance their destructive agendas?
What were you thankful for this Turkey Day? I know Peter LaBarbera did not cross my mind.