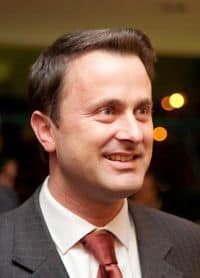 In the coming weeks, Xavier Bettel will be forming a coalition government in Luxembourg and, if all goes according to plan, will become the country's first openly gay Prime Minister.
Buzzfeed reports that Bettel unexpectedly led Luxembourg's centrist Democratic Party to its best-ever election results last month, earning him the right to form a government for the small, affluent European country.
But first, Bettel wanted to make sure he received his partner's blessing before taking the next steps:
"My partner [Destenay Gauthier, below] is a bit scared. I try to be at home most nights as we're a team but the obligations [of being Prime Minister] mean I will have to go abroad a lot. I asked him the day after the election whether it was OK to form a government and he supported me. If he had said no I would have to think whether I could accept it or not – I didn't want to break up a relationship! We're a team for good times and bad."
Bettel says gay visibility for elected officials has greatly improved since he first stepped into the political spotlight in the late 1990s: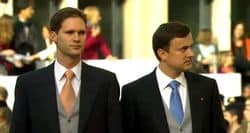 "I once had a [female politician] who said I was more lady than her. But society is changing and what would be considered as not normal is fully normal nowadays. You can live your life as yourself and be considered as you are – not because you look like a politician who is married and with children."
 Bettel also spoke briefly about his policy goals as Prime Minister, including improving Luxembourg's economy and legalizing gay marriage next year.
Check out the full interview over at Buzzfeed.