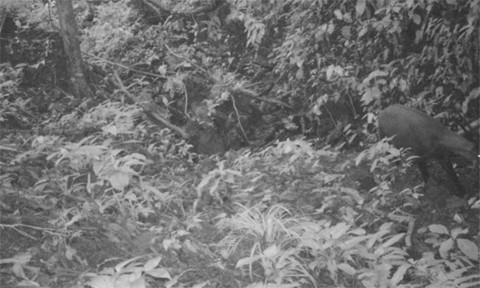 The saola, a rare cousin of cattle that looks a bit like an antelope, has been spotted using a camera trap (above) set by the World Wildlife Foundation and the Vietnamese government's Forest Protection Department in the Central Annamite mountains of Vietnam, WWF reports: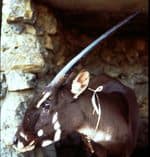 "When our team first looked at the photos we couldn't believe our eyes. Saola are the holy grail for South-east Asian conservationists so there was a lot of excitement," said Dr. Van Ngoc Thinh, WWF-Vietnam's Country Director. "This is a breath-taking discovery and renews hope for the recovery of the species." …
"In Vietnam, the last sighting of a saola in the wild was in 1998," said Dang Dinh Nguyen, Deputy Head of Quang Nam Forest Protection Department and Director of Quang Nam's Saola Nature Reserve. "This is an historic moment in Vietnam's efforts to protect our extraordinary biodiversity, and provides powerful evidence of the effectiveness of conservation efforts in critical saola habitat."
The saola was discovered in 1992. Little is known about its ecology and it is not known how many survive because it is so elusive, living in a remote wooded habitat on the Vietnam-Laos border.