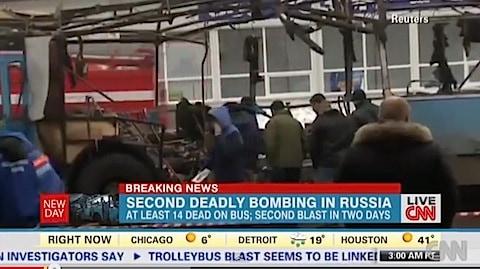 BY PRIYANKA BOGHANI / GlobalPost
A blast on a trolleybus during rush hour in Volgograd, Russia left at least 14 people dead and 28 wounded on Monday.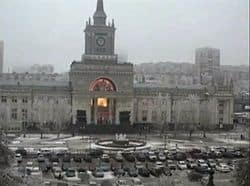 The attack came just a day after another deadly explosion ripped through the city's train station which killed 17 and wounded more than 40.
Russian authorities blamed the explosion on a suicide bomber.
It's the third deadly attack to hit Russia before the Winter Olympics in Sochi, as Friday saw three people killed in Pyatigorsk.
"For the second day, we are dying – it's a nightmare," a woman near the blast site told Reuters. "What are we supposed to do, just walk now?"
Security experts view the attacks as connected to the Chechen jihadist leader Doku Umarov, who vowed to disrupt the Sochi games that start in six weeks.
In July, Umarov urged his followers to "do their utmost to derail" the games, which he called "satanic dances on the bones of our ancestors."
Vladimir Markin, a spokesman for Russia's main investigative body, said the bomb used in Monday's blast was similar to the one used on Sunday.
"That confirms the investigators' version that the two terror attacks were linked," Markin said in a statement. "They could have been prepared in one place."
International Olympic Committee President Thomas Bach said Monday he was confident that the Sochi Games would be safe and secure in spite of the uptick in terrorist incidents. "I have personally written to the President of the Russian Federation, Vladimir Putin, to express our condolences to the Russian people," Bach said. "I am certain that everything will be done to ensure the security of the athletes and all the participants of the Olympic Games."
Earlier Monday, Russian Olympic Committee chief Alexander Zhukov said that no extra security measures would be added due to the attacks because all the necessary security precautions have already been taken.
Watch a CNN report on the bombing, AFTER THE JUMP…