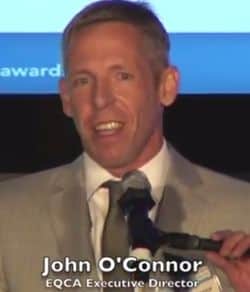 Equality California (EQCA) has had a difficult time getting on its feet. Longtime executive director Geoff Kors left in March 2011, was replaced by Roland Palencia (who quickly stepped down after only three months), and spent a year without leadership. When current exec. director John O'Connor (right) arrived last December, the organization's financial situation was less than stellar and several staff members had been let go. Now, though, O'Connor says that EQCA is back in shape and ready to make a difference, urged on by the Supreme Court's Prop 8 and DOMA decisions this summer.
The Bay Area Reporter writes:
Asked what the biggest challenge during his first year at EQCA has been, O'Connor laughed and said, "All of it."
After some consideration, he said, "Revitalizing an organization that had been through so much upheaval at a time when the LGBT movement for equality was shifting so dramatically was very complicated, and identifying strategies for doing that was the most challenging thing. That includes getting people's financial and political support behind what was happening, inspiring a staff to work as hard as they needed to work to make this possible, instilling confidence in elected officials once again, and instilling confidence in the press."
O'Connor, 42, whose salary is $150,000, said EQCA has successfully been rebuilt. The organization is "resolvent," its "reputation is dramatically improved," and "our visibility is dramatically improved across the state, particularly in Sacramento."
However, he said, "We're not done. It will be a multi-year project of re-staffing, re-stabilizing" and other work.
EQCA is making efforts to reconnect with other LGBT-related organizations throughout the Golden State, including the Transgender Law Center and Lambda Legal Defense and Education Fund. It has also increased its budget by $500,000 for the 2014 fiscal year and currently employs 43 paid staff. All of these improvements do not mean that the fight to maintain relevance and importance in a post-Prop 8 state is not real.
"Continuing to articulate the urgency of the work," is the biggest challenge ahead, said O'Connor. Even though California now has marriage equality, more remains to be done, including in areas like health care, cultural competency in nursing homes and other settings, transgender equality, and safe schools.