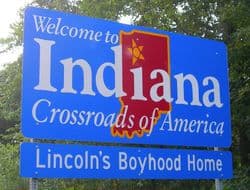 In 2011 the Indiana state legislature voted to amend the state constitution to ban same-sex marriage. However, with all the recent advancement in marriage equality – the recent decisions in Utah and Ohio in particular – the attitudes in Indiana are changing. Indiana is shaping up to be a battleground state in the fight for marriage equality, and even NOM's Brian Brown recognizes the importance of the shift, saying "What happens in Indiana is critical."
Indiana Republicans are in an awkward position between social conservatives, who are in favor of the ban remaining in place, and pro-business constituents who recognize that the ban could cause substantial economic harm. As a result, few are wanting to discuss the issue, and even Governor Mike Pence is presently remaining mum on the issue. 
On the other side of the aisle, same-sex marriage supporters have been pouring money into defeating the ban and are facing a real possibility of success that couldn't have been imagined a few years ago. Said Megan Robertson of Freedom Indiana:
It's not a very positive reflection on our state that we're considering this while everyone else is moving toward equality. We're committed to fighting this legislation whether it's in the legislature or at the ballot box.
Indiana could very well go in either direction: though a slim majority in the state were opposed to a constitutional ban only half actually want to legalize gay marriage.