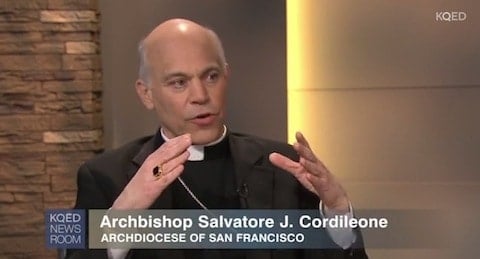 San Francisco's KQED held an interview last Friday between host Scott Shafer and Salvatore Cordileone, the Archbishop appointed to the San Francisco diocese by Pope Benedict last year. Naturally, the topic of homosexuals was brought up and it would seem that Cordileone is softening to the plight of gays, saying:
They've been disowned by their families. They've been harmed and they want to come to a place that will accept them for who they are. And affirm them. So it tenderizes us.
Perplexing use of the word "tenderize" aside, Cordileone's time in San Francisco seems to be nudging him in the direction of support and love. Unfortunately, it's not by much at all. Cordileone still chairs the U.S. Conference of Catholic Bishops Subcommittee for the Promotion and Defense of Marriage and said of the legalization of gay marriage in Hawaii:
The decision in Hawaii is disappointing and shows the need for rebuilding a culture of the family in our country. [C]hanging the meaning of marriage in the law does not promote the common good or protect authentic rights.
Evidently the Archbishop is in need of more tenderizing. You can watch the video of the interview AFTER THE JUMP…