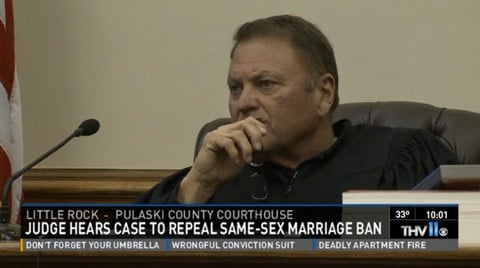 A judge in Arkansas heard arguments on Thursday on whether a case challenging the state's ban on same-sex marriage should proceed or be dismissed, the AP reports: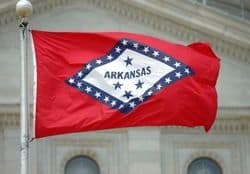 A number of same-sex couples sued in July, two weeks after the U.S Supreme Court issued two rulings supporting gay-marriage laws. They claim a 2004 constitutional amendment approved by Arkansas voters, which defines marriage as between one man and one woman, should be thrown out.
Some of the couples want Arkansas to recognize same-sex marriages from other states. Others want the opportunity to marry. They say the federal court decision supports them. But Assistant Attorney General Colin Jorgenson said the voters' will — Amendment 83 passed by a 3-1 margin — could not be thrown out because the state's residents had a right to determine their own constitution.
"Domestic relations laws are the province of the states," he said, adding the U.S. Supreme Court rulings "did not say states must recognize same-sex marriage."
Judge Chris Piazza did not say when he might rule.
Watch reports on the hearings from KATV and KTHV, AFTER THE JUMP…
KATV – Breaking News, Weather and Razorback Sports