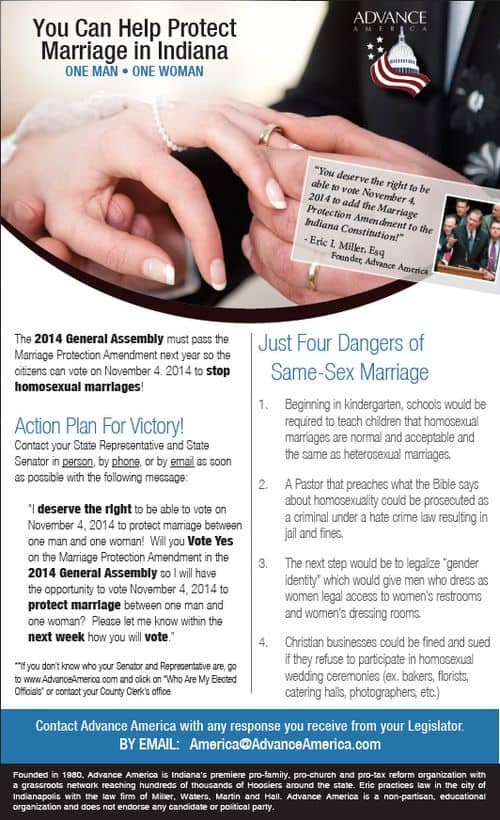 A church flier being distributed to churches across Indiana by Advance America meant to scare churchgoers about the consequences of same-sex marriage warns that pastors will be jailed, cross-dressing men will be stalking women in restrooms, government will force businesses to cater to gay weddings, and schools will teach children "that gay marriage is normal," the Indy Star reports:
Advance America, led by fundamentalist Christian activist Eric Miller, is among several religious-based organizations fighting at the grass roots to urge Indiana legislators to approve the proposed marriage amendment early next year. It then would go to voters on the November 2014 ballot.
Legal experts and gay-rights activists accuse Advance America of seizing on isolated examples from other states or misconceptions to strike fear into church-goers.
Freedom Indiana, the coalition working to defeat the amendment, says Advance America's flier is full of "scare tactics."
One of Advance America's claims is based on a fierce legal debate in other states. Business owners such as florists and caterers have faced sanctions in some places — especially those that also ban discrimination based on sexual orientation — if they refuse to participate in same-sex weddings. But Indiana's discrimination law doesn't include protections based on sexual orientation.
As for the flier's other claims, PolitiFact and other nonpartisan organizations have disputed their veracity when raised by gay marriage opponents in other states that have debated the issue.
View the flier above.