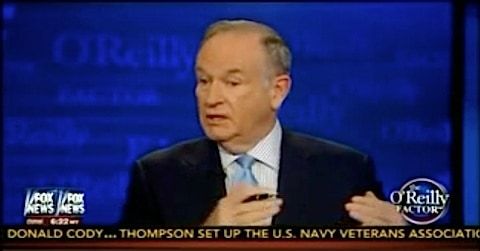 Marriage equality will cause "a fundamental dissolution of marriage in this country," FOX News host Bill O'Reilly argued on his show yesterday in a discussion of the recent Utah polygamy ruling in which a federal judge de-criminalizied a portion of Utah's ban on polygamy.
Watch, AFTER THE JUMP…
In related news, Rick Santorum and NOM have been crowing about how the Utah ruling proves their "slippery slope" theories.
Tweeted Santorum: "Some times I hate it when what I predict comes true."
As has NOM's Brian Brown:
"This decision is the next step along the path blazed by same-sex marriage advocates who have convinced federal judges to transform the societal norm of marriage as the union of one man and one woman designed primarily for the benefit of any children produced of their union into an institution that recognizes intimate, romantic relationships between consenting adults," said Brian Brown, NOM's president. "For years, we have warned of the importance of preserving the norms of marriage and its definition as the union of one man and one woman. Now we see the next step in the path of consequences for abandoning those norms. Left on its current course, in a few years marriage could be unrecognizable."
Brown explained that Friday's decision stops short of imposing state-sanctioned polygamous marriages because the plaintiffs in the case did not specifically seek such relief. However, Brown said that with this decision advocates for polygamist marriage tee up the issue for the US Supreme Court to find polygamists entitled to official state-recognition of their plural 'marriages' just like gay and lesbian couples have been able to do in several states that have redefined marriage. The polygamy decision relies in large part on the same legal rationale utilized to impose same-sex marriage.
"There's no doubt that the arguments for same-sex marriage were a template for this case," Brown said. "Once marriage is determined to be primarily about providing government recognition and benefits for loving, committed relationships, there is simply no principled way not to extend 'marriage' to everyone, no matter the nature of their relationship. People in polygamist, plural marriages are just a short step away now from winning official marriage rights. Adult incest practitioners will have similar claims, as will adult siblings and other close relations. Lost in this disastrous push to transform marriage into the satisfaction of adult sexual desires are the interests of children, and their right to the love of one mother and one father."