Clothing manufacturer Under Armour, which supplies the camo threads for Duck Dynasty, is sticking by the show but issued a disclaimer that the remarks made by Phil Robertson are not indicative of the company's beliefs. Meanwhile southern restaurant chain Cracker Barrel is pulling Robertson-related products from its shelves.
Writes the restaurant chain on its Facebook page:
Cracker Barrel's mission is Pleasing People. We operate within the ideals of fairness, mutual respect and equal treatment of all people. These ideals are the core of our corporate culture. We continue to offer Duck Commander products in our stores. We removed selected products which we were concerned might offend some of our guests while we evaluate the situation. We continually evaluate the products we offer and will continue to do so.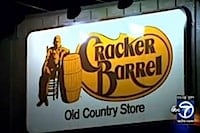 TMZ adds:
We called a bunch of Cracker Barrel stores, and the managers told us the products that were removed were the ones that had Phil's face plastered on the packaging.  Almost to a person, the managers added, "We still offer a wide variety of Duck Commander products," and then we heard a click.
Watch an ABC7 report on the sponsors,
AFTER THE JUMP…
Meanwhile, GLAAD is facing its biggest backlash in years, The Wrap reports:
"In the five-and-a-half years I've worked at GLAAD, I've never received so many violently angry phone calls and social media posts attacking GLAAD for us speaking out against these comments," the media watchdog organization's vice president of communications Rich Ferraro told TheWrap.
He said those reactions range from those who simply believe as Robertson believes to those who feel that GLAAD and A&E's actions limit the reality star's free speech.
Ferraro says it isn't stopping GLAAD:
The organization is also currently researching companies who use Robertson as a spokesperson.
"Silence is agreement in this case," he said. "With such egregious anti-gay and racist comments, those companies that choose to be affiliated with this family need to speak out."