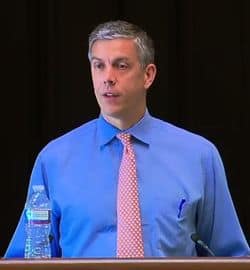 On Friday, Education Secretary Arne Duncan (right) announced plans to treat same-sex and opposite-sex married couples the same in the eyes of the law regarding federal college loan applications. Students, and parents, who have married their spouses in any state where it is legal can now receive the same loans as their heterosexual counterparts, and the loans will be recognized throughout the United States (even if the school one attends is in a state where same-sex marriage is not recognized). 
Salon reports:
"We must continue to ensure that every single American is treated equally in the eyes of the law, and this important guidance for students is another step forward in that effort," Duncan said in a statement…
"As students fill out their FAFSA this coming year, I'm thrilled they'll be able to do so in a way that is more fair and just," Duncan said, using the financial aid application's acronym…
Friday's move is the latest from the Education Department to be more helpful to students in same-sex marriages or with married gay parents.
This is an exciting step in providing sound and equal treatment by the federal government for all Americans. As a college student, I and my family are thankful for the loans we have been able to receive; it is important that anyone seeking higher education can do the same.
Check out the Department of Education announcement here.