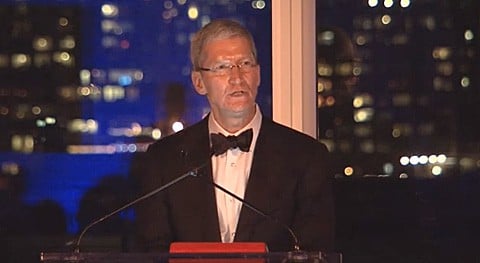 Apple CEO Tim Cook accepted Auburn University's Lifetime Achievement Award from the College of Human Sciences on December 10. In his speech, Cook spoke about the values that guide Apple and that guide him personally – his belief in putting an end to racism upholding equality and eliminating anti-LGBT discrimination, and achieving justice in immigration reform.
Cook also said it is time to pass ENDA:
"These values have also recently guided us to support legislation that demands equality and nondiscrimination for all employees regardless of who they love. This legislation, known as the Employment Non-Discrimination Act, prohibits discrimination on the basis of sexual orientation or gender identity. I have long believed in this and Apple has implemented protections for employees even when the laws did not. Now is the time to write these basic principles of human dignity into the book of law."
Watch his full speech, AFTER THE JUMP…