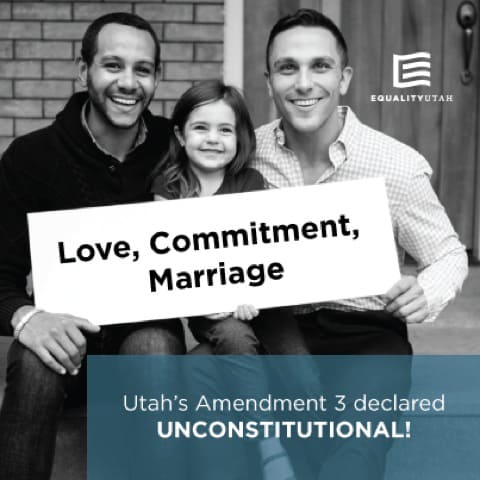 A federal judge in Utah has struck down the state's ban on same-sex marriage, declaring the ban violates both equal protection and due process, guarantees safeguarded in the U.S. Constitution, according to The Salt Lake Tribune:
"The state's current laws deny its gay and lesbian citizens their fundamental right to marry and, in so doing, demean the dignity of these same-sex couples for no rational reason," wrote U.S. District Court Judge Robert J. Shelby. "Accordingly, the court finds that these laws are unconstitutional."
Shelby's ruling came just 16 days after he heard arguments in the case and well before his self-imposed deadline to render a decision by Jan. 7, when the next hearing in the matter was to be held.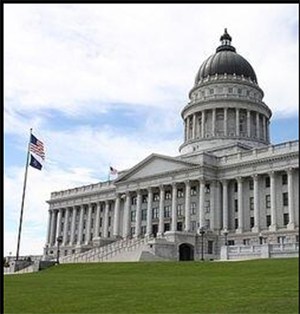 "It feels unreal," said Moudi Sbeity, who with his partner Derek L. Kitchen were plaintiffs in the case. "I'm just very thrilled that Derek and I will be able to get married soon, if all goes well and the state doesn't appeal. We want a farmer's market wedding because it's where we spend a lot of time."
Shelby said that while he agreed with Utah that marriage has traditionally been left to regulation by the states, such laws must comply with the Constitution.
"The issue the court must address in this case is not who should define marriage, but the narrow question of whether Utah's current definition of marriage is permissible under the Constitution," the judge said.
Shelby acknowledged the politically charged climate that surrounds the issue and said that was particularly true in Utah, where 66 percent of voters approved the amendment banning same-sex marriage in 2004.
"It is only under exceptional circumstances that a court interferes with such action," Shelby said. "But the legal issues presented in this lawsuit do not depend on whether Utah's laws were the result of its legislature or a referendum, or whether the laws passed by the widest or smallest of margins."
From Shannon Price Minter at The National Center for Lesbian Rights:
"This is the first decision since Perry–and the first after Windsor–striking down a marriage ban under the federal constitution. The judge did not stay his decision, so same-sex couples in Utah are applying for marriage licenses now."
Read the full decision AFTER THE JUMP…
(Photo via Twitter)