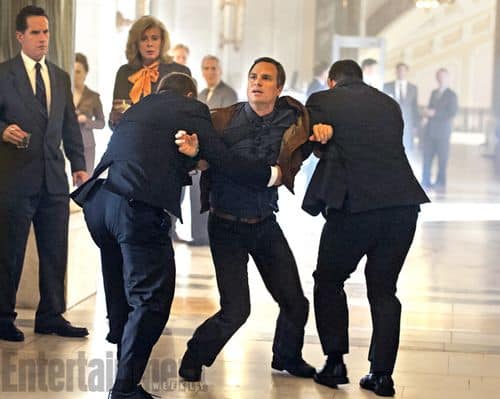 Ryan Murphy, most famous for television series like American Horror Story, Glee, and Nip/Tuck, is now taking on Larry Kramer's 1985 play The Normal Heart. Murphy's directorial adaptation of the play, a semi-autobiographical work which chronicles the founding of the Gay Men's Health Crisis during the peak of the HIV/AIDS epidemic, will appear on HBO this spring. The film stars Mark Ruffalo, Julia Roberts, Jim Parsons (who appeared in the recent Broadway revival of the play), Matt Bomer, and Taylor Kitsch. Now, the first official image from the film has been released (above).
Entertainment Weekly reports:
"It's a movie about AIDS, but it's also really a civil rights movie," says Murphy, who worked with Kramer on the script for three years. "I think it's more timely than ever before. It's really about the quest to be seen, not as a gay person or a straight person but just a person…. It's an activist movie that also has a really great love story in it." Adds the director, "Of everything I've done in my career, I think it is the biggest labor of love."
Many will be waiting with bated breath to see how Murphy's film adaptation holds up against the fiery rage of the staged original. Are you looking forward to The Normal Heart? 
Images via Entertainment Weekly.