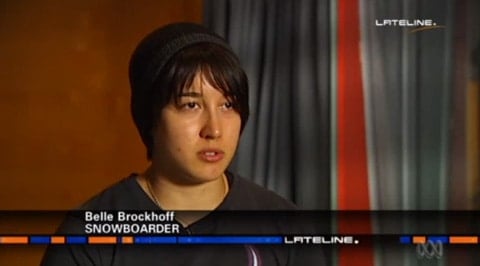 Belle Brockhoff, the Australian snowboarding Olympian who came out back in August as a show of solidarity with gay and lesbian athletes, is now throwing her support behind 'Principle Six' – the new line of protest merchandise that uses the IOC's own charter language to push for LGBT non-discrimination. The Courier-Mail reports:
"Ill wear what I have to wear for the team because I am representing Australia but apart from that I'll definitely be wearing P6 stuff.
"It's kind of a way of protesting but not really. It's directed towards te IOC, it's not directed to the Russian government so if athletes want to wear it around the Games they will be quite safe doing so.
"It's simple, it's powerful and I think it will change a lot of things after the Games."
Brockhoff joins numerous U.S. athletes who have also committed to working with the campaign, including runner Nick Symmonds and tennis star Andy Roddick. It remains unclear, however, if the IOC will take any action against athletes wearing this form of protest merchandise. 
Check out Brockhoff and other athletes who came out in 2013 in our year-end wrap-up, I'm Gay: The 53 Most Powerful Coming Outs of 2013.