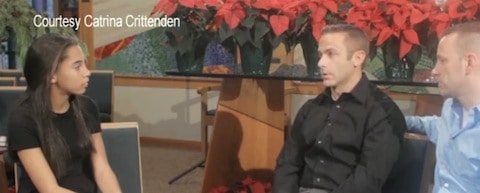 A few days ago we brought you the news story of Mark Zmuda, a Catholic high school vice principal who was fired for marrying his husband and the backlash from students and faculty that resulted. The school maintained the position that it was a mutually-reached decision that Zmuda end his employment with Eastside Catholic High School, but an interview between Zmuda and a former student reveals otherwise. 
Caterina Crittenden conducted a 45-minute interview with her former vice principal about his employment and termination, and her family has released the first minute of it online, with the rest to follow in the coming days. In the interview, Zmuda revealed that he broke no contract with the school, that his termination was in no way related to his performance, and that he was given an offer that would never have been given to a straight couple: he could keep his job if he dissolved his marriage.
On the part of the school, President Sister Mary Tracy claimed that she was trying to do everything she could to keep Zmuda. The decision to terminate him was that of the church, not of the school, and the option to dissolve the marriage was a last-ditch effort to retain Zmuda and his services. Sister Mary Tracy says that she is not proud of making that offer, but owns that she made it.
The clip of the interview between Zmuda and Crittenden can be seen AFTER THE JUMP…