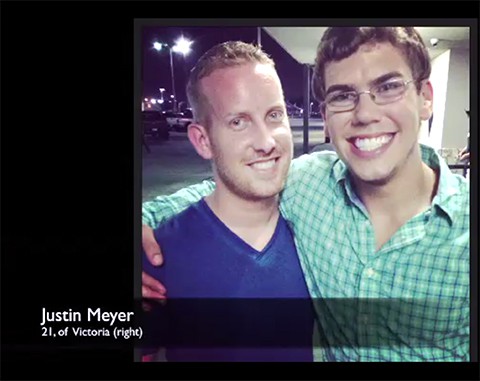 Justin Meyer, 21, and boyfriend James Douglas, 30, were pulled from the dance floor of The Cactus Canyon in Victoria, Texas last Saturday night and told by management that the bar has a policy against male same-sex couples dancing together, The Victoria Advocate reports:
The incident started as the closing notes of "Cowboys and Angels" ended, when a member of club management informed Douglas that dancing with his boyfriend, Meyer, was against the club's policy and posed a safety risk for the country music night club.
"Why?" Douglas asked the manager. "Why is it not OK for me to dance with my boyfriend when there are girls here who dance together all the time?"
Douglas said he assured management they would be able to fend for themselves in the event of an attack.
Robert Dillender, director of operations for Cactus Canyon in Victoria, said the couple was asked to leave because they were being disruptive, not for dancing.
Dillender said no such policy exists barring same sex couples from dancing together.
"We've never kicked anyone out of the club for dancing," Dillender said.
"Our obligation to the Texas Alcoholic Beverage Commission is to maintain the peace."
How the company interprets that obligation is under review, Dillender said.
"We apologize for the misunderstanding," Dillender said.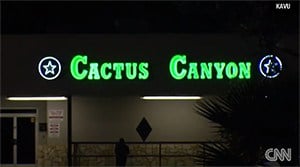 Cactus Canyon alleges that Meyer poked the bar manager in the chest after a request to see the bar's policy prohibiting men dancing with other men was denied. However, Meyer insists no poking occurred. The Texas ACLU has since said they plan to reach out to the couple. Whether the couple has a case against the bar will largely depend on local city ordinances, according to Jim Harrington, director of the Texas Civil Rights Project.
Interestingly, the couple claims that what the bar management found particularly offensive was not necessarily the couple's dancing together so much as their dancing together to country music:
In the Cactus Canyon incident, during their initial confrontation, the manager told Douglas it was acceptable for them to dance together for genres like rap or hip-hop – just not country music, Douglas said.
"So you're telling me it's OK for me to bump and grind on my boyfriend to the song 'Bubble Butt,' but we can't dance a two-step?" Douglas responded.
Meyer said he has gone to Cactus Canyon since he was 18 years old.
"I'm just kind of shocked," Meyer said. "They know my face, I've been here hundreds of times, and it was just really hurtful that we couldn't dance together."
Watch a news report on the incident, AFTER THE JUMP…