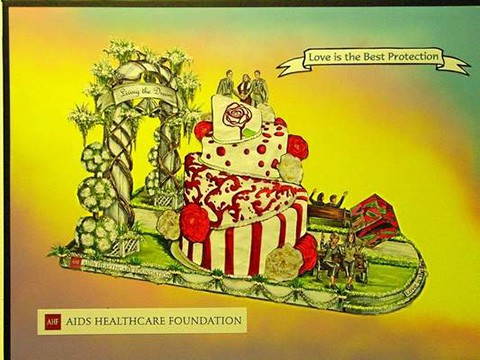 Thanks to the Supreme Court's overturning of California's Proposition 8 earlier this year, January 1, 2014 will mark the first New Year's Day that same-sex marriage is legal in the Golden State. To commemorate the historic moment, a gay couple will be wed atop a float in the annual Rose Parade. The float, sponsored by the AIDS Healthcare Foundation in Los Angeles, is titled, "Love is the Best Protection." However, not everyone is pleased about this public display of affection. A San Diego woman, Karen Grube, is calling for a boycott of The Tournament of Roses according to Pasadena Star-News. Said Grube: "Gay marriage is illegal in over 30 states, why would they promote something that is blatantly illegal?…That's just stupid." Never mind that gay marriage is legal in California, where the Rose Parade takes place. Grube relies on some stock objections to the Rose Parade featuring a gay wedding, though she insists her boycott has nothing to do with "religious convictions":

Grube also said she didn't think the Tournament should be involved in a group's "political agenda."
"It used to be a family thing, to get up on New Year's Day morning and watch the parade," she said. "It no longer is."
Danny Leclair said the negative reaction over the planned wedding to his long-time partner Aubrey Loots has not diminished his enthusiasm for his special day.
"It's something that they don't understand and so I expected it," he said. "We're not dissuaded or upset or concerned. We're simply acknowledging it."
While Leclair describes some of the negative comments he has read as "heinous," others he says, are "people taking a stand for something they believe in."
"There's a lot of people who think we're doing this as a political statement," he said. "It couldn't be further from the truth. Our stance is love is love and love will save lives."
Leclair said he hopes his wedding, which will be broadcast around the world to an estimated 68 million people, will show people that gay marriage isn't something to fear.
The Tournament of Roses organizers have no objection to the float and point out it fits in with this year's parade theme, "Dreams Come True":
"Like all of our sponsors and float designers, AHF continues to help make the Rose Parade a premier event through original and creative expressions that connect to parade themes — as this float does."