Administrators for the pro-equality Facebook page 'Have A Gay Day' have been banned from posting to their page after the group shared an image Friday night that showed two men kissing with the caption, "Did this picture offend you? Did you ever think, maybe your opinion is offensive?" As The Gaily Grind points out, Facebook subsequently removed the picture because it violated their "community standards." This is not the first time Facebook has pulled an image of two men kissing, claiming the image violates the Social Network's community standards. 'Have A Gay Day' released a statement following the incident: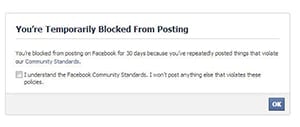 We posted a photo of two men sharing a kiss. The only thing visible was lips touching. The quote on the photo read, did this picture offend you? Did you ever think, maybe your opinion is offensive? We had posted this photo in the past with no issue and the last time we posted this photo was actually six months ago.
 All 106 admins of this page were kicked off of Facebook and logged out of their mobile apps and computer access. When logging back into Facebook we were told that this photo was found to be against the Community Standards for Facebook. We have reviewed the standards and feel that Facebook is in error. Many of us have received account blocks and locks from myself a 30 day ban to some with 15 day bans and yet others with only a few hours.
There is currently no way to appeal this decision. In the past Facebook has apologized to LGBT pages that had photos removed of couples kissing and restored their accounts. We are asking that Facebook wipe this accusation of being against their community standard from our record and restore our power to post on our personal pages and fan pages. This is truly uncalled for.
We have enabled back up Facebook accounts so we have the ability to still post. We ask that Facebook review their decision and promptly restore us as a page, our personal accounts and issue an apology as well as working to make sure this doesn't occur again.
 We will do everything in our power to bring this to Facebooks attention as quickly as possible.