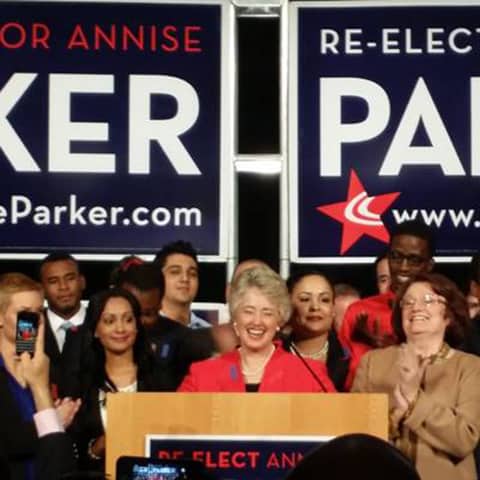 The Houston Chronicle reports that the openly gay mayor of Houston, Annise Parker, plans to wed her partner of 23 years, Kathy Hubbard. Hubbard, a professional tax preparer, met Parker after moving to Houston from New York, where she grew up, with her sister, seeking a warmer climate:
In 1990, Hubbard met the future mayor when she visited Parker's Inklings book store in Montrose to see if the business needed a tax consultant. Parker hired Hubbard to handle her personal taxes, and with time affection blossomed.
Parker, who is in her third and final terms as mayor, has yet to confirm the report and has previously said she and Hubbard would not wed until it was legal for same-sex couples in Texas to do so. However, Parker seems to have shifted her position in the wake of the Supreme Court's decisions in Hollingsworth v. Perry and United States v. Windsor:
In recent public statements, though, the mayor has suggested she might reconsider her position. She said developments such as the Supreme Court's striking down of the federal Defense of Marriage Act have prompted her to consider the message her inaction might be sending to the couple's two adopted children…
Mayoral spokeswoman Jessica Michan said in a statement via email: "The mayor very much appreciates the interest in the 23-year relationship she has shared with her life partner, First Lady Kathy Hubbard. However, marriage is a private matter and she has no announcements she wishes to make at this time. If that changes, we will let you know."
In addition to their two adopted children, the couple also took in and aided a homeless gay youth who Hubbard met in 1993 after his grandparents kicked him out for being gay. That youth, Jovon Tyler, now 37, calls both women, "Mom."
Parker and Hubbard will reportedly wed in Palm Springs, California come January. California is one of 18 states where same-sex marriage is legal. 
(Photo via Facebook)