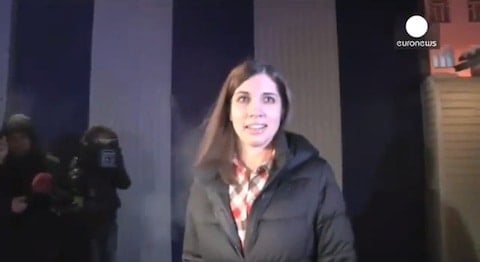 Just days after two members of Russian punk rock group Pussy Riot were released from prison as part of an attempt to clean up Russia's public image ahead of the 2014 Sochi Games, comes news that a screening of a documentary about the group's trial and subsequent imprisonment has been shut down by officials in Moscow, BuzzFeed reports. The U.S. made documentary titled, Pussy Riot: A Punk Prayer, debuted at this year's Sundance Film Festival. The theater where the documentary was to be screened received a letter from Sergei Kapkov, the head of Moscow's cultural department, forcing a cancellation of the screening on the basis that theaters that accept public funding are not to screen films that "provoke" society: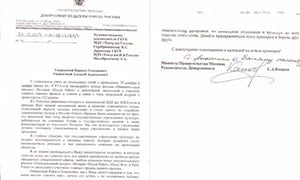 Kirill Serebrennikov, the director of the Gogol Center theater, announced the move on his Facebook page on Saturday and posted a copy of the letter. "Until recently, in all interviews, I would declare like a mantra: 'There's no censorship at the theater, there's no censorship at the theater.' That's it, fuck, there's censorship at the theater! Cynical, pointless and stupid," he wrote.
The official letter, signed by Sergei Kapkov, the head of Moscow's cultural department, demanded Serebrennikov cancel the showing of the film, which was set for Sunday afternoon, to be accompanied by a discussion with Maria Alyokhina and Nadezhda Tolokonnikova, two members of the opposition punk group released from prison last week.
Kapkov, seen as a relatively liberal official, wrote that he was "shocked" to learn of the film showing and discussion via social media. "I would like to draw your attention to the fact that the theater run by you is a government cultural institution…and financed from the city budget," Kapkov wrote. "You, as the director of the institution, should show responsibility before the founders and, most importantly, before the audience."
"I deeply believe that a government cultural institution should not associate with those people who provoke such an ambiguous reaction and whose activity is based on the provocation of society," Kapkov wrote.
He continued: "I have no right to get mixed up in your repertoire politics, and I've never done that, but considering this showing is not part of the official schedule, I demand you cancel the showing of the documentary film 'Pussy Riot: A Punk Prayer' and the discussion with the main heroes of the film." Kapkov's spokeswoman could not be reached for comment.