Amid the national outcry against the Indian Supreme Court's ruling which put back into place an 1861 law criminalizing same-sex intercourse, the city of Madurai has found fliers posted in public calling for the arrest and execution of gay people and their supporters.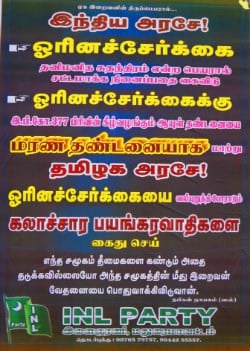 The LGBT Indian blog Gaylaxy reports:
The message from the [Indian National League, a Muslim political party]… is addressed to both the Central and State governments, and requests them to immediately arrest and detain members of the LGBT community and their supporters, and refers to activists as 'homosexual terrorists'…
First, it mentions that freedom of expression was being abused by the LGBT community- hence Section 377 of the IPC should be in place. Second, being the most extreme message advocated by it, it calls for an extension of the punishment advocated under the Section, and requests that it be rectified from 10 years imprisonment to capital punishment. Third, it reflects and repeats the age-old tune of religious parties in calling homosexuality a crime against traditional values. The poster includes a cautionary footnote from the Quran, quoting it as saying that "if a society does not destroy the evils in it, it will inevitably bear its consequences".
Despite the forbidding of gay sex in the Quran, Muslims such as openly gay American Imam Daayiee Abdullah are actively challenging homophobic elements within Islamic culture.
Shortly after India's Supreme Court ruling, the UN Human Rights Chief, the Indian government and elected officials all urged quick action to decriminalize homosexuality once more, as was done in a lower court ruling in 2009.