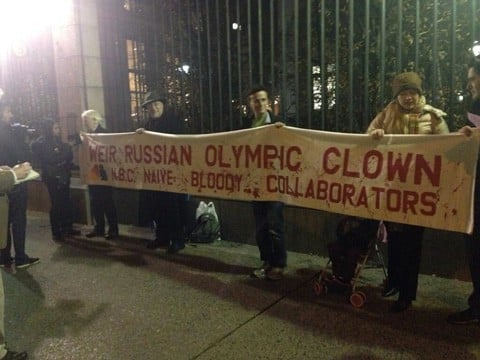 In a letter that will be sent to the national Olympic committees that are sending athletes to the Sochi Games, the IOC is reminding all participants to refrain from engaging in demonstrations, political gestures, or protests while in Russia. ESPN reports:
The memo will focus on Rule 50 in the Olympic Charter, which states: "No kind of demonstration or political, religious, or racial propaganda is permitted in any Olympic sites, venues or other areas."
"We will give the background of the Rule 50, explaining the interpretation of the Rule 50 to make the athletes aware and to assume them that the athletes will be protected," IOC President Thomas Bach said in an interview with The Associated Press.
The charter says the IOC can take action against — even expel — athletes who violate Rule 50, but the committee has said the rule would be "interpreted and applied sensibly and proportionately."
It remains unclear what will happen to athletes who decide to wear a rainbow flag pin or American Apparel's new Principle 6 protest merchandise while at the Games. 
Athlete Ally and AllOut, the activist groups behind Principle 6 responded to the IOC's announcement today.
Said Andre Banks, Executive Director of All Out: "If IOC President Thomas Bach truly cares about principles, he should speak out against the discriminatory Russian laws that clearly violate Principle 6 of the IOC's Charter. These laws not only stigmatize the gay community, they have also ignited a wave of anti-gay violence around the country. It's time to change the Olympic bidding process to ensure that the honor of hosting the Games only goes to countries that respect basic human rights."
Added Hudson Taylor, Executive Director of Athlete Ally: "The 34 Olympians who have joined our campaign feel it is their duty to uphold the Olympic Charter and act in the face of any form of discrimination. Equality is not about politics, it's about principles. The Principle 6 Campaign uses the language of the IOC's founding document to give athletes, fans and global supporters a way to celebrate the Olympic values of non-discrimination and show solidarity with LGBT Russians. How could the IOC object to that?"