Hoping to raise national and international awareness of their plight, LGBT Ugandans and allies warned Monday of the mounting violence and vitriol directed at homosexuals following the country's passage of its anti-gay bill last week. CNN reports: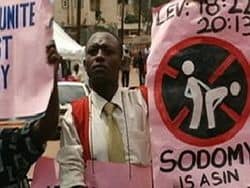 "The witch hunt had already started, and now it has been legitimized by the parliament of Uganda, which is very scary," said Clare Byarugaba, coordinator for the Ugandan Civil Society Coalition on Human Rights and Constitutional Law, an umbrella gay-rights group. "We don't know how brutal the police will be now that the bill has passed. With this legitimization, it's going to get worse."
Homosexuality is illegal in most African countries, where sodomy laws were introduced during colonialism. Currently in Uganda, homosexual acts are punishable by 14 years to life in prison, according to rights activists. But lawmakers in the conservative nation sought tougher legislation, saying the Western lifestyle risks destroying Ugandan family units.
Gay activists in Uganda are regularly detained, blackmailed and harassed in what they say has been an ongoing campaign led by religious and political leaders in the conservative East African country.
"What we are convinced and sure of is that nobody can in one's right conscience and consciousness choose to be homosexual," said Simon Lokodo, Uganda's minister for Ethics and Integrity. "This must be under pressure or conditions because we know that the natural tendency is always for a male to go for a female and vice-versa."
The International HIV/AIDS Alliance has also warned of the bill's "disastrous impact on the country's HIV response." Uganda is one of only two countries in Africa with a rising AIDS rate.
The bill awaits President Yoweri Museveni's signature.