Europe has its second openly gay prime minister, Reuters reports: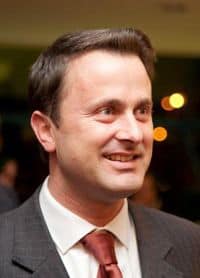 Luxembourg swore in Xavier Bettel as its first openly gay prime minister on Wednesday, paving the way for the introduction of social reforms such as same-sex marriage.
Bettel replaces Jean-Claude Juncker, who was until Wednesday the European Union's longest-serving head of government, with 19 years in power. That distinction is now held by Estonian Prime Minister Andrus Ansip, who took office in April 2005.
Bettel, whose deputy Etienne Schneider is also openly gay, is expected to introduce other changes like replacing religious instruction in school with more general ethics classes.
Bettel was previously mayor of Luxemboug city. Europe's other openly gay prime minister is Belgium's Elio Di Rupo.
Bettel told Buzzfeed that visibility for elected officials has improved quite a bit since he stepped into the political spotlight in the 90s:
"I once had a [female politician] who said I was more lady than her. But society is changing and what would be considered as not normal is fully normal nowadays. You can live your life as yourself and be considered as you are – not because you look like a politician who is married and with children."