On April 2, 2010 at 11 pm, Andile Ngcoza raped openly lesbian  Millicent Gaika (pictured) for five hours, strangling her with electric wire badly enough to leave bruises and scars, choking her with his hands and threatening to kill her and throw her into the neaby river.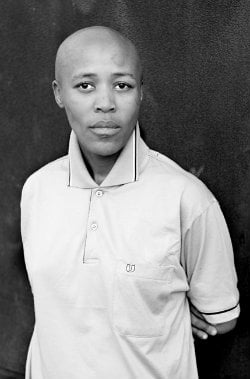 He reportedly told her, "I know you are a lesbian. You are not a man. You think you are, but I am going to show you are a woman. I'm gonna make you pregnant you are going to carry a babe for me."
Even though neighbors knocked on his door to ask about the noise, he insisted that he was having a fight with his girlfriend. Gaika was only rescued at 4 am when two Zimbabwean men heard her screams, broke down Ngcoza's door, beat him up and held him until police came. Afterwards, they took Gaika to a nearby hospital.
Sadly, this was the third time Gaika had been raped by men to "cure her" of her lesbianism. In 2002, four men gang-raped her. The repeated trauma caused Gaika to have recurring nightmares, to begin drinking heavily and to seriously contemplate suicide.
Ngcoza recently got sentenced to 22 years for his crimes, partially because of his seeming lack of remorse and also because  of his two other rape convictions against both men and women in the 80s.
Gaika told reporters, "It feels great. I feel great. He got the years that I was hoping and expected he would get. I think I will finally get peace."
But although South Africa is the only African nation that has legalized marriage equality and gay adoption, according to blogger Rod McCullom those rights haven't protected black LGBT South Africans from an ongoing wave of queerphobic violence:
An estimated "510 women report being the victims of "corrective" rape every year in South Africa and [at least] 31 lesbians have been murdered over the past 10 years because of their sexual orientation," according to South African human rights activist Ndumie Funda.
The SA government announced in May 2011 that it would establish a task force to address the escalating incidents of anti-LGBT attacks in its nation. That announcement came only weeks after the brutal death of Noxolo Nogwaza attracted international attention. The 19-year-old lesbian "was gang raped, stoned and stabbed to death using shards of broken glass." Noxolo's murder remains unsolved and the violence and attacks have continued.
McCullom also mentions that nine South African gay men have been killed and robbed by "a gang of brutal robbers and serial killers" over the last three and a half years.