Even though the president of Taiwan is on record saying that he respects gay marriage, tens of thousands of his citizens do not share his sentiment and took to the streets outside the Presidential Office on Saturday to protest same-sex marriage and proposed changes to partnership rights.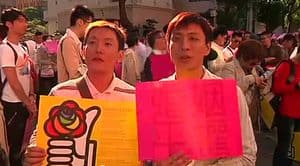 Following the tactic used in many other countries, particularly the U.S. and Russia, protesters hid behind children and cited personal religious beliefs as defense for their opposition. A more unique protest comes from The Coalition for the Happiness of Our Next Generation, a group which fears that the legalization of same-sex marriage will result in "sexual liberation."
The proposal to legalize same-sex marriage and allow adoption by gay couples is only one of three that sparked Saturday's protest. The other two seek to establish a civil partnership system and a system that would recognize multiple unrelated people as a family unit.
There was also a large counterprotest.
Check out the report, AFTER THE JUMP…