How Beyoncé kept the video album a secret.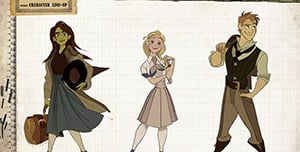 What an animated telling of Wicked might look like.

Speaking of the album that blew up the internet, Queen Bey performed her new song "XO" live for the first time the other night while on her Mrs. Carter tour.

Now you can binge-watch the 90s. Just in time for the holidays.

Director's cut of Britney Spears' "Perfume" features "Breaking Badney" and one Mr. Justin Timberlake. 

Amy Adams on making out with Jennifer Lawrence in American Hustle: "She does a great job at it," Adams, 39, said of Lawrence, 23, during an interview with Extra. "She has very soft lips."

  China's Jade Rabbit Moon rover sends back first photos. 

  Apple approves "only gay social app for ages 12 and up": "Distinc.tt 'uses real-time collective knowledge to connect trendsetting crowds and travelers to the places and people that best reflect their distinct interests.' Implicit in this rococo marketing speak is the notion that gay people know where it's at before, you know, other sorts of people do…Here's an extract: 'With an emphasis on good taste, Distinc.tt is sleekly designed to easily lead users to the right event, restaurant, party, or vacation spot for the moment or upcoming calendar, where their friends are or plan to go soon.'"

  Lindsay Lohan reportedly penning tell-all.

  A gay Pinterest?

  The Mother of Dragons, a.k.a. Emilia Clarke, to play Sarah Connor in Terminator re-boot.

  Caroline Kennedy: diplomacy rock star?