In David Crary's recent Associated Press article exploring the hurdles facing the transgender rights movement, Michael Silverman — executive director of the Transgender Legal Defense and Education Fund — said, "My sense is that we are 20 years behind the mainstream gay and lesbian movement in terms of public understanding."
Part of the challenge is demographic. According to demographer Gary Gates of the UCLA School of Law's Williams Institute, an estimated 3.4 percent of adults in the United States identify as lesbian, gay or bisexual, while only one-tenth that many are transgender…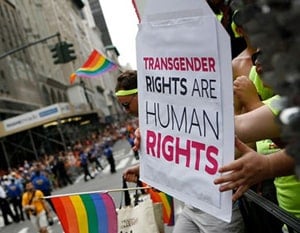 "The fact we've had so many victories on behalf of gays and lesbians means transgender people are now on the radar – and with it comes the nastiness," said [Dru Levasseur, director of Lambda Legal's Transgender Rights Project]. "There have been so many advances regarding marriage that the anti-equality groups are shifting to target the next set of upcoming victories on transgender issues."
Beyond the battles for a trans-inclusive Employee Non-Discrimination Act and public accommodation protections, the transgender rights movement is also focused on getting health care coverage for trans-medical needs as well as lowering the higher rates of incarceration, poverty and violence against transgender people.
The article says that despite several recent political victories — including the Senate's passing of a trans-inclusive ENDA and California's passage of a public accommodations law for transgender students (the repeal effort against which seems doomed to fail) — conservative groups such as the so-called National Organization for Marriage have shifted their focus from losing battles against committed same-sex couples to demonizing trans kids.
"Fewer Americans know transgender people [as well as they do gay people] at this point," Silverman said, "and that presents an opening that opponents of transgender rights can exploit."
Also, despite the recent visibility of trans people in the media like celebrity Chaz Bono, infamous Wikileaker Chelsea (previously Bradley) Manning and Orange is the New Black's Laverne Cox, a recent study by Gays and Lesbians Allied Against Defamation reported that 12 of 20 appearances of trans characters on TV portrayed them as either clownish or sociopathic, hindering public acceptance and understanding of trans people and their struggles.
However, Dru Levasseur of Lambda Legal questioned the notion that – in the court of public opinion – transgender rights was a tougher sell than gay rights. The key to winning more acceptance, he said, was a willingness by transgender people to share the stories of their lives.
"Being who you are – being brave enough to be yourself. People can relate to that," he said.
Despite the 2012 launch of the "I AM: Trans People Speak" video campaign designed to lets transgender Americans tell their stories, I AM currently has 69 videos uploaded while the anti-bullying campaign "It Gets Better" has easily over 1,000. Granted, you don't need to be LGBT to make an "It Gets Better" video, but the fact that many celebrities and companies helped bolster the IGB campaign may reveal two important allies the trans movement needs in order to sway public opinion and ultimately advance their cause.