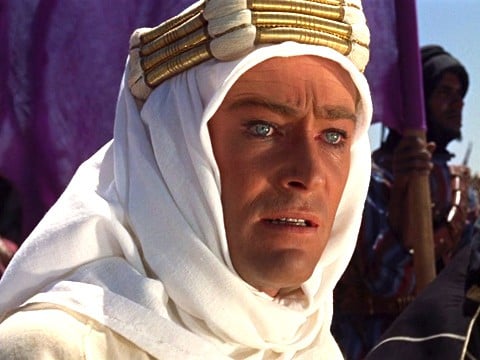 The Irish-born actor died Sunday "after being taken to hospital with a long-suffering illness on Friday," The Daily Mail reports:
The news comes just one year after he formally retired from acting on the eve of his 80th birthday. 
Speaking in a statement at the time, he said that his career on stage and screen fulfilled him emotionally and financially, bringing 'me together with fine people, good companions with whom I've shared the inevitable lot of all actors: flops and hits.' 
'However, it's my belief that one should decide for oneself when it is time to end one's stay,' he said. 'So I bid the profession a dry-eyed and profoundly grateful farewell.' 
Despite this, he emerged from retirement this year to star in Katherine of Alexandria, which is yet to be released.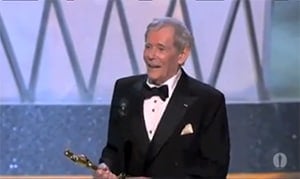 An eight-time Academy Award nominee who never won Hollywood's top acting honor, O'Toole shot to screen stardom 50 years ago in the title role of Lawrence of Arabia, which earned seven Oscars, including best picture and director for David Lean.
O'Toole's grand performance as British adventurer T.E. Lawrence brought him his first best-actor nomination but set him on an unenviable path of Oscar futility. His eight losses without a win is a record among actors. 
The honors stacked up quickly as O'Toole received Oscar nominations for 1964's Becket, 1968's The Lion in Winter, 1969's Goodbye, Mr. Chips, 1972's The Ruling Class, 1980's 'The Stunt Man' and 1982's 'My Favorite Year.'
In 2003, at age 70, O'Toole received an honorary Oscar, often given as a consolation prize for acclaimed actors and filmmakers who never managed to win Hollywood's top award.  
The honorary Oscar came 20 years after his seventh nomination, for My Favorite Year.
O'Toole nearly turned down the award, sending a letter asking that the Academy of Motion Picture Arts and Sciences hold off on the honorary Oscar until he turned 80. 
Hoping another Oscar-worthy role would come his way, O'Toole wrote: 'I am still in the game and might win the bugger outright.' 
He earned his eighth best-actor nomination for 2006's Venus, in which he played a lecherous old actor consigned to roles as feeble-minded royals or aged men on their death beds. 
'If you fail the first time, try, try, try, try, try, try, try again,' O'Toole said in a statement on nominations day. 
In 1987 O'Toole was offered a knighthood but "turned it down for personal and political reasons." He is survived by two daughters, Kate and Patricia, and a son, Lorcan Patrick O'Toole.