A new book from "a star columnist" at a Moscow tabloid is making headlines in Russia, Spiegel reports. The book, by Stanislav Belkovsky, suggests, among other things, that Vladimir Putin is gay.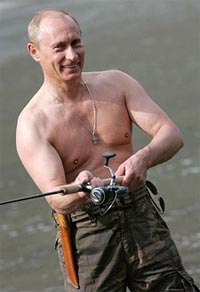 Writes Spiegel:
Western intelligence agencies, diplomats and experts on Russia are interested in two parts of Belkovsky's theories in particular: Putin's supposed fabulous wealth and his sex life. According to Belkovsky, Putin's alleged affair with beautiful former gymnast and Olympic champion Alina Kabaeva was nothing more than an invention of his PR advisors. They painted a picture of Putin as "macho and (a) sex bomb" in order to conceal, as Belkovsky speculates, that for him "sex and a sex life are alien" or even that he is "latently gay."
A 2007 photo shot at which Putin's reputation as a "gay icon" was apparently established supposedly serves as evidence for this gay speculation, as it was a "truly erotic photo session in which Putin and Prince Albert of Monaco posed topless with their fishing rods in their hands." Putin's spokesman Dmitry Peskov flatly rejected this accusation, just like the speculation over his alleged wealth or the forgery of his birth date. "Belkovsky's remarks are lacking any basis, or as we say it in Russia: They are total rubbish," Peskov said.
Belkovsky himself seems to be aware he is skating on thin ice with his speculation over the Kremlin chief's possible homosexual proclivities, he writes, "for the lawyers among my readers," it should be noted that "a cult figure among homosexuals is not automatically a homosexual himself."