After 12 years of existence, the non-profit group Queers for Economic Justice — which sought to challenge systems perpetuating poverty among LGBT people — announced that it is closing due to an inability to secure "future long-term funding."
In a statement released on their website, Founding Board Member and Executive Director Amber Hollibaugh wrote: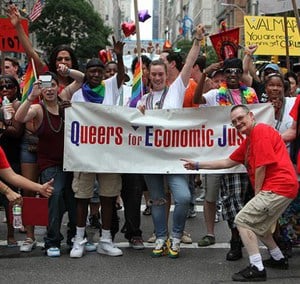 Funding has always been a challenge for QEJ throughout our 12 years of existence, but this year the financial crisis has been relentless. We finally had to face the painful reality that we cannot keep going. The crisis cannot be resolved simply by a one-time burst of money. Had that been true, we would have turned to you, our community, and asked for help. I am sure of your response…
We have never had a large number of major donors able to write big checks (though we thank the ones who have). What we have always had was a loyal and committed group of donors who believe in what QEJ does, and who gave—not huge sums—but all they could. Yet that wasn't enough to keep us afloat. We needed to find another way to stay alive and, though we had a strategy, we did not have the time to implement it. Realizing this, we looked at each other and said what we had never said before: We have to close.
Though the organization plans to close its office by late January 2014, their website will stay operational for the next six months. In the meantime, they are soliciting donations to help meet the costs for a proper shutdown.
However, Hollibaugh went on to describe how certain aspects of QEJ's advocacy work can and must continue:
Ironically, as we prepare to close our doors, our work and our vision has never been stronger. Our new initiative, Queer Survival Economies—a project addressing the devastating impact of the nation's ongoing economic crisis on LGBTQ lives—is taking off. And QEJ's advocacy work with poor queer adults in city shelters remains stable and resilient, while our LGBTQ shelter support groups continue to grow. We maintain an organization which fosters dialogue and debate about the crucial issues confronting our communities: immigration, HIV status, sexuality and the power of the erotic, queer aging and disability; policing; the struggles of queer, low-wage workers; and the still-harrowing impact of Hurricane Sandy on our communities.
Queer, economic justice activism is needed now more than ever and we will need you, our community, to help carry that work forward as QEJ comes to an end. Use our website, our writings, like A New Queer Agenda and Beyond Marriage, talk about the issues and the vision for which QEJ is known. It is now up to each of us to take this on, never letting the too often absent voices of our communities disappear…