(twitter portlandfilm)
A rainbow flag banner designed and sent by Gilbert Baker (the creator of the Rainbow Flag) was unfurled at the Side by Side LGBT Film Festival in St. Petersburg, Russia over the weekend in the face of laws banning gay propaganda. It was unfurled as Gus van Sant, Bruce Cohen, and Dustin Lance Black, the filmmakers behind the Harvey Milk biopic Milk, discussed the film.
The film fest received 5 bomb threats, organizers report:
On 30th November, at art-space Skohorod, Saint Petersburg the VI Side by Side LGBT Festival came to a close. The festival which has been plagued with major disruption, receiving 5 bomb threats which led to evacuations of buildings, causing scheduling changes, ended in a positive and reaffirming atmosphere in the presence of the creators of the Oscar award winning film MILK, Gus Van Sant, (director), Dustin Lance Black (screenwriter) and Bruce Cohen (producer).
Proving to be unyielding, opponents of the festival were bent on continuing to cause havoc to the very end and just 5 minutes before the start of the Closing Award Ceremony the audience once again were informed that the building needed to be evacuated following yet another anonymous telephone call that a bomb had been left on the premises. After police checks the building was given the all clear and proceedings once again resumed with an hour or so delay.
Following the announcement of the 2013 BOBIK Award winners the evenings main highlight was with the festivals very special guests, Gus Van Sant, Dustin Lance Black and Bruce Cohen, who engaged with the audience talking at length about the film MILK as well issues to relating to the emancipation of the LGBT community in the USA, Russia and around the world.
Van Sant noted that despite significant advances in the USA in the recognition of LGBT rights the situation was not perfect and there was still a lot of work to be done. Black and Cohen reiterated their solidarity for the LGBT community in Russia, to stand by their gay and lesbian brothers and sisters and not let crimes committed against them to be ignored but condemned and the perpetrators made accountable for their actions. Black reminded that: "THE WORLD IS WATCHING" the developments in Russia.
A surprise gift, signifying friendship and solidarity, was presented by Black from Gilbert Baker – the creator of the rainbow flag which symbolizes LGBT – was a hand sewn rainbow flag with the words SUPPORT RUSSIAN GAYS.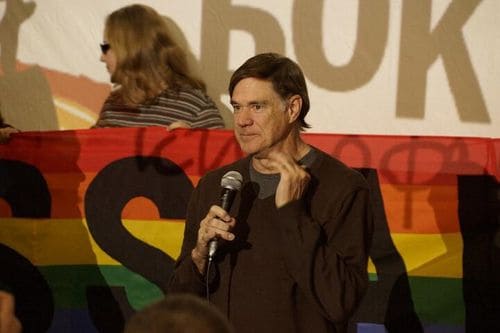 (twitter side by side)