A new study from the Centers for Disease Control and Prevention shows that the number of men who reported having unprotected anal sex within the last year has jumped by 20% between 2005 and 2011, The New York Times reports: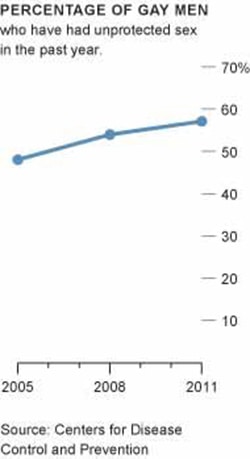 The data, published in the agency's Morbidity and Mortality Weekly Report, do not explain why unprotected sex has risen so rapidly, but a leading hypothesis, Dr. Frieden said, is that more men are "sero-sorting" — that is, those who are uninfected ("H.I.V. seronegative" on lab reports) try to sleep only with other men who are uninfected, or who hope they are, or who merely promise they are.
"The problem with sero-sorting is that it's really easy to get it wrong," Dr. Frieden said. "When one-third of men aren't even tested in the last year and a tenth of those who thought they were negative were actually positive, you don't want to risk your life on a guess."
Other hypotheses, say Dr. Frieden and Dr. Jonathan Mermin, the disease centers' director of H.I.V. prevention, are that many young men have never known anyone dying of AIDS and so do not fear it, or that they believe that they can easily stay on antiretroviral drugs for life.
Two leading independent AIDS researchers agreed only partly with those explanations.
"Young guys are less worried," said Alex Carballo-Diéguez, a researcher at the H.I.V. Center of the New York State Psychiatric Institute and Columbia University who has studied gay men's behavior since the 1980s. "H.I.V. has become a chronic disease, and everyone knows some behaviors are bad for you, like smoking and trans fats. But in the moment of excitement, they're going to do what they enjoy."
Perry N. Halkitis, a researcher at New York University, meanwhile suggested that the rise in unprotected sex between gay American men can be attributed to two factors: the decreased transmission risk when sleeping with an HIV-positive person who is taking daily antiretroviral medication and the collapse in the economy which left many young men out of work, "and we see higher-risk behavior when people have more risk in their lives." Halkitis cautions that though antiretroviral medications do significantly reduce the risk of transmission, not all men on the drugs take them everyday thus reducing their effectiveness.
The report from the CDC comes as a new aggressive strain of HIV, A3/02, has been discovered out of Guinea Bissau in West Africa, Al Jazeera reports. The new strain is recombinant, meaning that it is formed when "two of the most common strains in the region fuse together." A3/02 appears to descrease the time it takes for a person to develop AIDS once infected with HIV: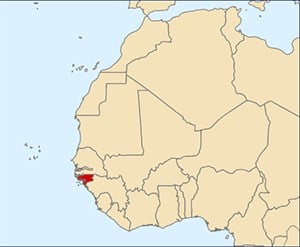 "Individuals who are infected with the new recombinant form develop AIDS within five years," Angelica Palm, one of the scientists involved in the study, said on Thursday.
"That's about two to two-and-a-half years faster than one of the parent [strains].
Research shows that recombinant strains, those created when different DNA combines, are a cause for concern.
"There have been some studies that indicate that whenever there is a so-called recombinant, it seems to be more competent or aggressive than the parental strains," Palm said.
You'll recall in October we reported on a similarly virulent strain of HIV that has emerged in Russia. Like that strain, A3/02 does not appear to be more deadly or resistant to treatment. In other words, existing medications will still fight A3/02. 
Researchers meanwhile are still searching for ways to target and destroy the HIV virus. While an HIV vaccine still appears to be a ways off, European scientists have come up with a model that could target and destroy the AIDS virus within a human body by preventing the virus from replicating, according to io9:
European researchers have used a computer to design small synthetic molecules capable of attacking the deadly AIDS virus where it hurts the most: its ability to produce the genetic material required for replication. It's the first time in history this has ever been done…
The novel designer molecules work by blocking the virus' ability to replicate. And they do so by inhibiting the output of genetic material from the infected cell nucleus to the cytoplasm. Without replication, no new infections can occur. So in theory, because all cells are mortal, even the infected cells will eventually wither away and die.