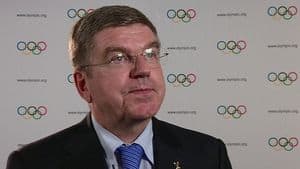 Reuters reports that Russian gay rights activists met with newly-elected IOC President Thomas Bach during his two day trip to Paris, calling on the IOC to launch an internal investigation as to how Russia's anti-gay laws will impact the 2014 Sochi Olympic Games. Gay rights organization All Out and the IOC confirmed the meeting took place:
"During the meeting, the IOC was urged to launch an independent investigation on the legal implications of the anti gay laws … as these laws are infringing the Olympic charter and notably the sixth principle of non discrimination," All Out said in statement.
A list of questions that could help steer the investigation was handed to Bach, they added, saying they were expecting the IOC to announce within days whether it would proceed.
Though they did not receive any assurance of an investigation, the activists praised Bach's willingness to listen to their point and urged him to take a stronger stance.
"It was a valuable conversation and we delivered first-hand evidence that a clear and strong action is needed," Anastasia Smirnova, who attended the meeting, told Reuters.
The activists pointed out to Bach that since the anti-gay propaganda law was passed in June, violence against LGBT people in Russia has increased. Other activists and politicians have called on the IOC to denounce Russia's discriminatory laws as fundamentally incompatible with the principles of Olympism, though for their part the IOC has insisted they have "assurances" from the "highest authorities in Russia" that the Olympic Charter, which holds that "Any form of discrimination with regard to a country or a person on grounds of race, religion, politics, gender or otherwise is incompatible with belonging to the Olympic Movement," will apply in Sochi. However, in September the IOC announced they were "fully satisfied" that the anti-gay propaganda law does not violate the Olympic Charter.