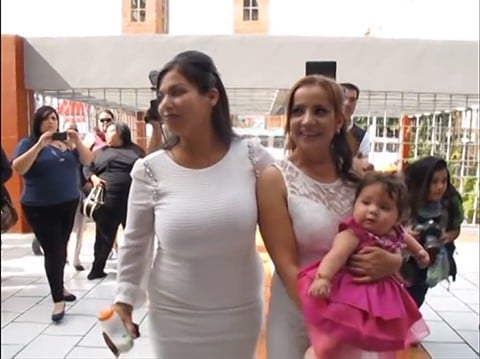 Despite a ruling from Mexico's supreme court a little over a year that "open[ed] the door to equal marriage in the whole country," marriage equality has yet to become a reality in every Mexican state. Same-sex marriage has been officially recognized in Chihuahua, Quintana Roo, Yucatan, and Oaxaca. However, a recent union in Jalisco suggests more movement is possible.
CNN Mexico reports that earlier this month Zaira de la O and Martha Sandoval became the first lesbian couple to marry in the state of Jalisco:
Last November, Jalisco lawmakers approved domestic partnerships for gay couples (Ley de Libre Convivencia), a union with limited benefits that is formalized before a notary, not a judge.
After being denied a marriage license in March, the couple sought relief from the courts and won, CNN Mexico reported.
"We are happy, relishing the moment we sign, with the same nerves as any couple about to marry for the first time," Zaira said.
 The women, who are raising a 1-year-old daughter, were represented in their legal fight by the Committee of Latin America and the Caribbean for the Defense of Women's Rights (Comite de America Latina y el Caribe para la Defensa de los Derechos de la Mujer, CLADEM).
CLADEM's Guadalupe Ramos said that she knew of at least five additional gay couples who want to marry in the state.
"What we hope is that we won't have to litigate in all of these cases to obtain the same rights as heterosexual couples," said Zaira.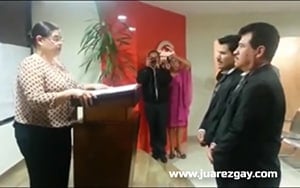 Meanwhile, in November, Marco Villaseñor Quiroz and Jaime Gándara Salcido, became the first same-sex couple to marry in the state of Chihuahua, according to El Diario. Thanks to a district court judge who granted the couple a 'writ of amparo' or 'protection of their civil rights' the couple was able to receive a marriage license. Though the couple received much support from family and friends, not everyone was happy to celebrate them on their big day:
At the start of the wedding, a group of people [arrived at] the facilities of the Civil Registry to prevent it, but the authorities requested the support of units of the Municipal Police and everything ran smoothly with calm….
After 20 years of living together, Jaime [spoke of his happiness in reaching] that day: "We are in a great place for having achieved the goal. Thank God everything is provided to us, we have had much support".
Congratulations to the happy couples!
Watch a video of Sandoval and de la O's wedding (in Spanish) along with a short clip of Quiroz and Salcido's, AFTER THE JUMP…