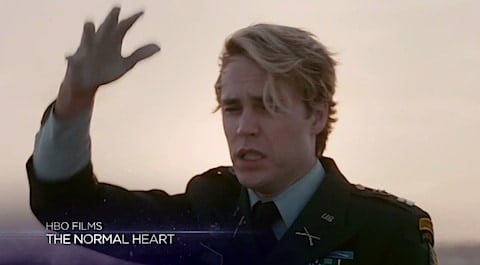 Taylor Kitsch spoke about his role as Bruce Niles in The Normal Heart with NY Mag's Vulture.
Ryan Murphy has a real knack for casting against type and letting actors do what they normally haven't gotten to before. Did you feel that here, like you were doing something new?
[Exhales loudly.] On every level. But being out of your comfort zone is why you become an actor. You try to stretch yourself as much as you can.
So how did The Normal Heart stretch you?
I mean, look: I was born in '81. I had no idea about the whole AIDS epidemic. I'm straight, and playing a gay guy who's leading a double life, who's still in the closet, who's losing his lovers, who has AIDS but won't admit it to himself, who ends up dying … I mean, where do you want to start? F–k me, dude. It's insane. The body type, the fact that he works at Citibank, very high up on Wall Street, so learning that part of it and reading an insane amount of books about guys who were leading those kinds of lives, learning about AZT and where it started … I knew probably the surface stuff, but what I learned for this, the education I got, that was another great tool.
And something that can hopefully build on what Dallas Buyers Club is doing right now.
That's a great film, and McConaughey just knocked it the fuck out. [The Normal Heart] will really put you there. It's a bit more aggressive look into that world.
You can see Kitsch and his blond hair for a very brief moment in THIS promo for HBO's new season.