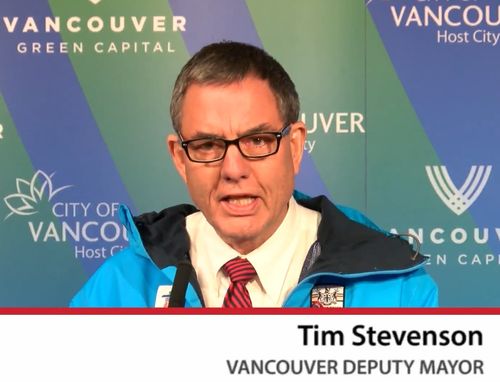 Tim Stevenson, the deputy mayor of Vancouver, British Columbia will be making a visit to the 2014 Winter Olympics in Sochi, Russia, where he will petition the IOC to add a non-discrimination clause for LGBT persons to the charter. Stevenson, an openly gay man, has received the financial and ideological support of real estate magnate Bob Rennie and developer Peter Wall. The two have each pledged $25,000 to the trip fund, which Stevenson has estimated will amount to $100,000. Ethical concerns have risen, however, and some question the validity of the trip and its donors.
The Province reports:
Simon Fraser University political science professor Patrick Smith said the project seems noble, but could put Stevenson and Vision in conflict-of-interest danger.
Rennie, known as Vancouver's "Condo King," runs Vancouver's biggest real-estate firm. Also, Rennie Marketing Systems has earned millions selling condos at Vancouver's troubled Olympic Village project.
"It's not like there is a conflict, but there is the appearance or potential for a conflict, and both of those are real," Smith said on Wednesday.
"There is an ethical consideration here. This is one of the biggest developers in the city, and a developer that does business with the city. So what will happen the next time something with Bob Rennie comes up? Will Coun. Stevenson recuse himself?"
Smith said he believes the city could make a strong case to publicly fund Stevenson's official trip to Russia: "If the city wants this, the high road is putting your money where your mouth is."
Stevenson has maintained that the trip is not a conflict of interest for any of the parties involved, but rather an important statement about the rights of all humans.
"I just really believe that if they came for you last night, they're coming for me in the morning, and let's just make sure that these things aren't happening on the earth," he said.
Robertson said that at the 2010 Winter Olympics in Vancouver, "Regardless of race, gender or sexual orientation, everyone was included, everyone was welcome here.
"Sadly, as we are learning, this does not appear to be the case with the 2014 Sochi Winter Games."
What do you think of Stevenson's proposed trip? Would you help fund his endeavor?