Nearly six decades after he took his own life following a conviction of "gross indecency" for being a homosexual, the famed World War II codebreaker Alan Turing has finally been granted a royal pardon by the UK government. The Guardian reports: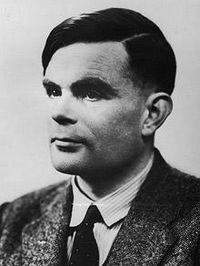 Turing was considered to be the father of modern computer science and was most famous for his work in helping to create the "bombe" that cracked messages enciphered with the German Enigma machines. He was convicted of gross indecency in 1952 after admitting a sexual relationship with a man.
He was given experimental chemical castration as a "treatment". His criminal record resulted in the loss of his security clearance and meant he was no longer able to work for Government Communications Headquarters (GCHQ), where he had been employed following service at Bletchley Park during the war. He died of cyanide poisoning in 1954, aged 41.
Announcing the pardon, [justice secretary Chris] Grayling said: "Dr Alan Turing was an exceptional man with a brilliant mind. His brilliance was put into practice at Bletchley Park during the second world war, where he was pivotal to breaking the Enigma code, helping to end the war and save thousands of lives.
"His later life was overshadowed by his conviction for homosexual activity, a sentence we would now consider unjust and discriminatory and which has now been repealed.
"Dr Turing deserves to be remembered and recognised for his fantastic contribution to the war effort and his legacy to science. A pardon from the Queen is a fitting tribute to an exceptional man."