Utah Attorney General Sean Reyes, who was sworn into office yesterday, wasted no time in preparing his state's strategy for defending its ban on same-sex marriage. The Salt Lake Tribune reports: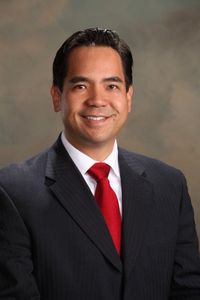 Reyes said that whatever the price tag, the expense of defending Amendment 3, approved by 66 percent of voters in 2004, will be worth it.
"We're willing to spend whatever it takes to protect the laws and the will of the people," he said. "Our commitment to the people is if we don't have [expertise] internally, we'll find the best to represent the state."
[Governor Gary] Herbert met with Reyes Monday afternoon to review the state's options and strategy. He said it was important to ensure that whatever money is spent is "well spent" and "appropriate.
"This issue deserves a good discussion and good airing," Herbert said. "The important thing is we have a democratic process, a judicial process, that needs to be complete. All people on all sides of this issue want to have it complete so it's resolved. Whether it is resolved the way we all want, who knows?"
Reyes added that while he believes recent U.S. Supreme Court cases will aid his side because they give deference to the state in making decision on the definition of marriage, the court ultimately failed to address the issue definitively. 
"And because of that, they left open interpretation not only by Judge Shelby but other federal judges," Reyes said. "So whether Judge Shelby ruled as he did or if he would have ruled against the plaintiffs, one side or the other would have appealed because I think everybody benefits from having the process takes its course through the appellate process and hopefully getting a final word from the Supreme Court on this issue that will give us all some closure."
Reyes also said that an application for stay is likely to be filed sometime today with the Supreme Court.