As a result of the Supreme Court's ruling in June overturning much of the Defense of Marriage Act, nearly all Nebraska school districts will begin offering insurance benefits to legally married same-sex couples. The Columbus Telegram reports: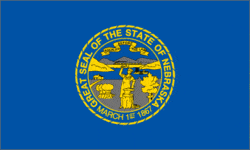 Blue Cross Blue Shield recently decided to change its policy effective Jan. 1 because of the high court's ruling, and that company insures all but three of the state's 249 school districts through the Educators Health Alliance.
[…]
It wasn't immediately clear Monday how many of the 70,000 people covered by Blue Cross for the Educators Health Alliance might take advantage of the coverage for same-sex spouses. School district employees will have until Jan. 31 to sign up for benefits.
Nebraska's constitution dictates that only marriages between a man and a woman will be recognized or performed in the state.