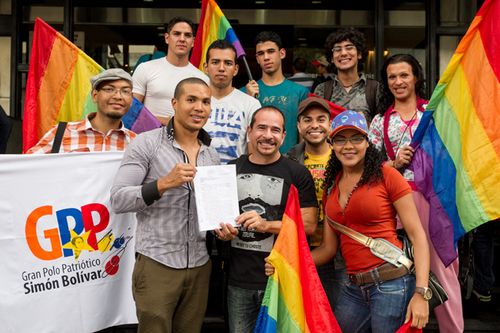 Earlier this week, members from a number of LGBT organizations allied with Venezuelan President Nicolás Maduro announced they would petition the country's Foreign Ministry to grant political asylum to any LGBT Ugandan citizen seeking refuge in the country. Blabbeando reports:
The announcement, carried by the official government news agency AVN, said the groups would submit a written statement to a Foreign Ministry representative urging the government to "suspend any type of collaboration or plans to strengthen a relationship with Uganda by making a public statement addressed to the international community and Uganda and to and grant political asylum to gay Ugandans."
On Thursday, members of the Hugo Chávez Command for Sexual Diversity, Equality Venezuela and the Venezuelan United Socialist Party Youth Committe handed the letter to an an unnamed representative outside the Foreign Ministry offices and said that they decided to speak up as citizens of an important nation.
"The reason we came to the Venezuelan Foreign Ministry is that we do not consider the Bolivarian Government to be just any government at this time in the world – at least among third world countries," said Chea Rodriguez speaking to the EFE news agency, adding "this is a country that has great influence."