Isa Shakhmarli, chairman of Azerbaijan Free LGBT, a Baku-based gay rights advocacy group, was found dead on Wednesday after leaving a suicide note, Tengri News reports: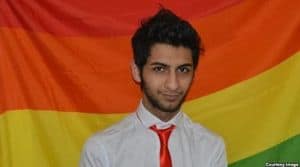 In an emotional farewell note, Shakhmarli asked friends to let his mother know he loved her and said that he had left the door to his flat open. "I am leaving. Forgive me for everything. This country and this world are not for me," Shakhmarli wrote in a message to friends on the social networking site Facebook. "You are all guilty for my death. This world cannot handle my true colours. Goodbye," the message said.
A video posted onto an Internet news site showed medics at the scene trying, and failing to resuscitate Shakhmarli as friends wept in the background. A torn rainbow flag can be seen hanging from the ceiling.
Vugar Adigozalov, a close friend and former colleague of Shakhmarli at the gay rights organisation, told AFP that his family had difficulty accepting his sexuality.
Shakhmarli was 20.