E! news reports that everyone was talking about Ben Affleck's manhood at the 25th Producers Guild of America last night.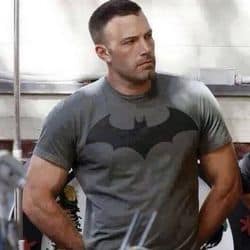 First CBS producer Chuck Lorre told the audience a story about using the urinal next to Affleck:
"Yes I peeked. And yes, Comic Con, he can play Batman."
And Affleck followed with his own gag:
"I was at the bar briefly, and I came back to my seat and somebody said, 'You know, there was a guy up on stage who said you have a big d–k,'" the Oscar winner joked to the audience. "I was like, 'You know, isn't that always how is goes? The one time it happens and I miss it!' Thank you very much. Whoever you are, God bless you. I'm often confused with Matt Damon but rarely with Michael Fassbender, so…"
Unfotunately the Man of Steel sequel has been pushed to May 6, 2016 so it'll be awhile before we're seeing that.